Meet
RETINA-AI
Galaxy
Artificial
Intelligence
for
Diabetic
Retinopathy
Diabetic retinopathy is the leading cause of blindness in working age adults. But it can be prevented with early detection and treatment. We are using deep learning to automatically detect more than mild diabetic retinopathy (mtmDR) and vision-threatening diabetic retinopathy (vtDR).
Works with multiple cameras
Easy to use
FDA clearance pending
Prevents blindness
Same day results
Fast and secure
Capture images
A trained medical assistant takes images of patient's retina (two per eye).
Analyzes images
Galaxy analyzes images for markers that indicate disease. Provides results in less than 3 sec.
Diagnostic report
Output diagnosis report. Results are either: No disease detected, retest in 12 months or disease detected, refer to an eyecare professional.
Most
technologically
advanced.
We are the first and only to have multi-camera compatibility with 5 different cameras.
Galaxy is for use with the DRSPlus (a robotic camera). The DRSplus is a favorite amongst clinic staff. It's the highest performing and most technologically advanced option.

A robotic camera has no joystick, so no manual human-adjustments are needed. The camera will adjust itself until it finds the patient's eye. This makes training very easy for any Medical Assistant to quickly learn how to conduct an exam.

No previous eyecare-specific specialty training is required. Whereas non-robotic (joystick) cameras require much more adjustment from a human operator, can be more error prone, and can take longer to train your staff.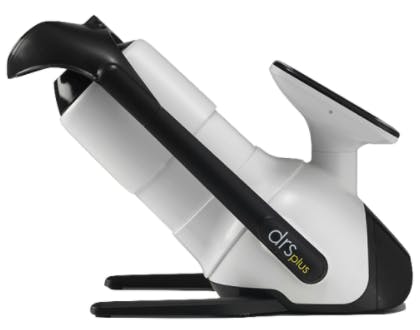 CenterVue (DRSplus)
Easy Training
for
Anyone
in
the
Clinic
Designed for intentional ease of use. Any operator, with no specialized skills, can be trained in a short amount of time
Operators could be Medical Assistants, Nursing Assistants, or Nurses, etc.
Short amount of training and very easy to use.
Don't need any prior ophthalmic experience.
Time is precious for both clinical staff and patients. Therefore a diagnosis is given in less than 3 seconds* after images are sent.
*Based on "low" internet speeds of at least 58.6 Mbps download/4.5Mbps upload.
A report
that
everyone
can
understand
Galaxy provides an easy-to-read, and actionable report with follow-up timelines and referrals based on the Preferred Practice Pattern of the American Academy of Ophthalmology (AAO).
We
are
experts
Our team is made up of healthcare experts from: